We want to make it simple for you to learn about the power of Syncrofy's features and all the ways it can help you get the most out of your EDI data. That's why our "Syncrofy 101" series of posts will highlight a specific task in Syncrofy and illustrate how easy it is to carry out. In this post, we'll examine how easy it is to invite your B2B partners to use Syncrofy, how to do it, and what your features your partners will have access to. So let's go!
Having B2B processes that don't make your head hurt can sometimes be a daunting challenge, and a lot of that headache comes from losing information. In today's fast-paced business world, transactions can often slip through the cracks, leaving you scrambling for answers and digging through piles of data.
Issues like missed payments, partner exceptions, sent/received documents (e.g. Functional Acknowledgments), and various technical issues can all manifest themselves into larger problems without the right tracking tool in place.
You already know how Syncrofy helps unite your internal teams on a single platform to reduce complexity, but did you know you can also invite your B2B partners to use Syncrofy?
That's right, your trading partners can also use Syncrofy and experience many of the software's collaborative features! By inviting them, you will be able to securely share information, compare data, and solve those problems with your partner organization before they become larger issues.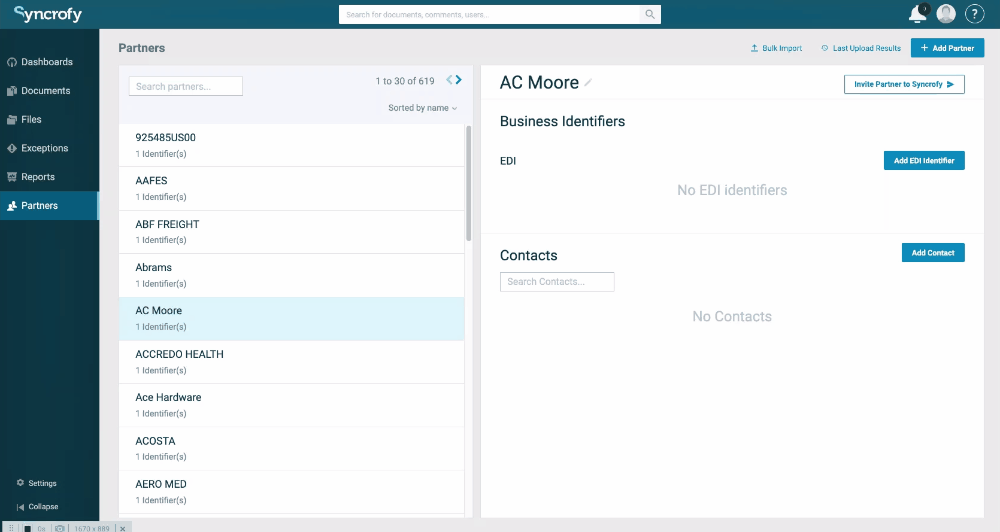 Inviting them is quick, easy, and requires only a few clicks of your mouse. And it's even easier for them to get set up! To invite a partner to Syncrofy, select the Invite Partner to Syncrofy button on the main Partners screen. Then, type in your partners information and click Invite. It's that simple! Your partner will receive an email that will walk them through account registration and setup.
After setting up their account, your partners will have access to many of Syncrofy's features, including:
Documents and the ability to add comments
Exceptions (they can have assigned to them)
Document Detail Screen (they can view X12 data for a specific document)
Bottom line? You can promote accountability and transparency with your partners by inviting them to use Syncrofy, helping to eliminate those pesky missed deadlines and driving more streamlined transactions.
To learn more about the Partners feature including step-by-step instructions on how to invite your B2B partners to Syncrofy, visit our Help site. To discover the power of Syncrofy, visit www.syncrofy.com.