We know how much your business relies on interaction with your trading partners. That's why Syncrofy allows you to invite your partners to use Syncrofy at no charge to them, enabling you to collaborate and give them access to the features you deem necessary. By inviting your partners, you will be able to securely share information, compare data, and solve problems.
Doing so is fast, easy, and requires just a few clicks of your mouse!
Simply click the "Invite Partner to Syncrofy" button in-app and fill out the required information. Your partner will receive an email invitation and will be walked through the entire signup process.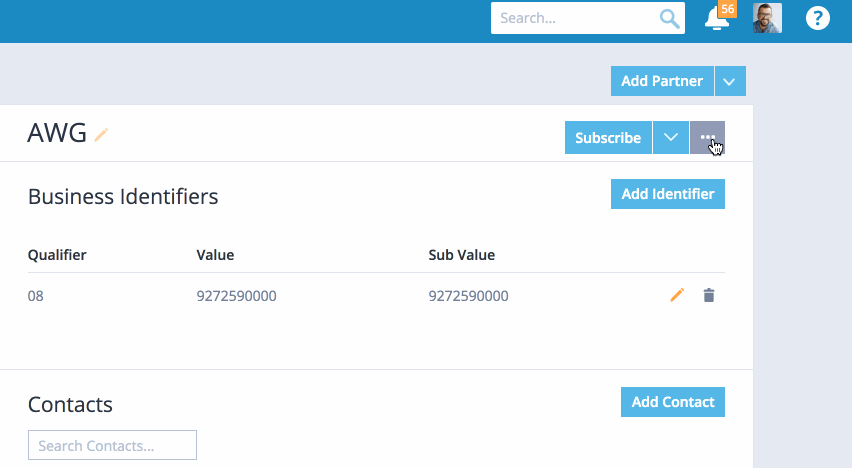 Here's a closer look at the features your partner organization will have access to and how it will help drive collaboration and solve issues with them before they become larger issues.
Search and find data, on-demand.
Syncrofy's invite feature gives your partner access to Search, allowing them to find the exact data they need, when they need it. Should your partner need to find a specific document that has come into question, they can simply type the number in the search box to track it down. Of course, it's not only documents that can be discovered. They can search by user, company name, product name, or identifier.
Once they find the document, your partner will have access to all of the information contained on the Document Detail Screen. This is specific information about the document including dates, line items, file format, acknowledgment status, addresses, reference information, and general information.
Achieve clear communication and promote issue resolution.
With Exceptions and document comments, you and your partner can create an auditable trail that promotes transparency and accountability while making it easier for your team to find the information they need in the future.
Let's say you send an invoice to your invited partner, but they fail to acknowledge it within 48 hours. You can assign an SLA exception to your partner and put the "ball in their court." By doing so, it will allow your partner to act and update you regarding the status of the document.
They can submit a comment alerting you that a functional acknowledgment was re-sent and they can validate that within Syncrofy. This allows both you and your partner to eliminate the gray area and promote clear communication.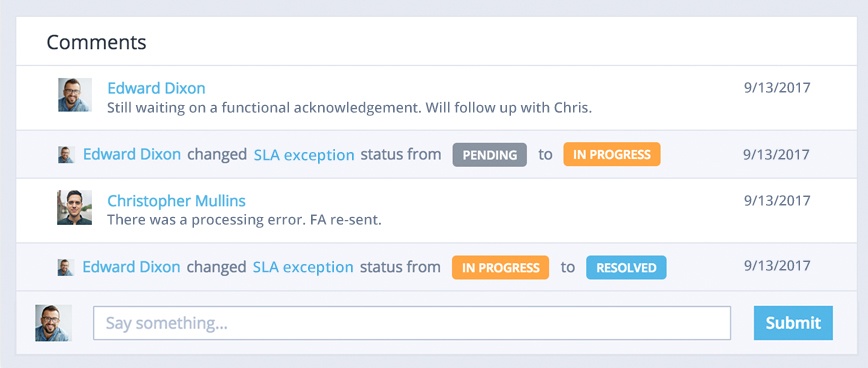 Save time and answer EDI questions together.
Your partner will have access to Syncrofy's Timeline feature, allowing them to track the lifecycle of a document and see important information including date and time of creation, associated exceptions, and general information. Timeline (along with the Watch feature) makes answering questions about whether or not a document was sent, quick and easy.
For example, let's say a customer service rep in your organization is asked by your trading partner whether or not an invoice was sent out for a specific purchase order (PO).
The first step for them would be to search for the PO number and then click on the associated Timeline. There they can see relevant documents, if they went out, and when. They might see that the invoice was sent out but has not been acknowledged or they might see that it was sent and acknowledged. They can then relay this information to their partner organization that it was definitely received.
However, if the answer to that was "no" then the next logical question would be, "When will it be sent?" This is where the Watch feature comes into play. Because Watch allows you to monitor a Timeline (or document), you and your partner will receive an alert when there is a change to that Timeline's exceptions or comments.
Share and compare real-time business insights.
Upon inviting them to Syncrofy, your partner will have full access to Syncrofy's Dashboards and Reports features. Both provide analytics on EDI data in real-time, empowering you and your partner to make fast, well-informed decisions.
With Dashboards, your partner can build dynamic visuals (including bar, line, pie, percentage, and summary charts) with real-time data to view the overall health of their business and obtain a true view of their operation. They can also create detailed reports using customized templates to monitor trends and gain greater visibility into your business interactions with them.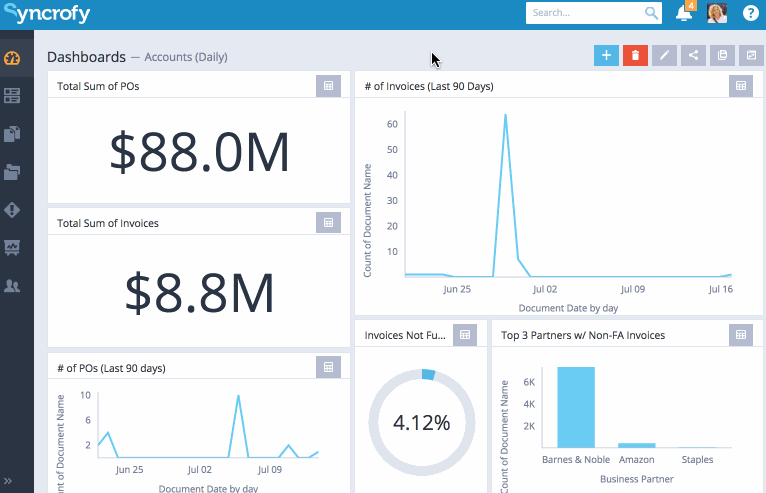 Dashboards and reports are easily sharable at the click of a button so you can compare information, manage priorities, and build transparency between your organizations.
With Syncrofy, inviting your partners is simple and the benefits are abundant. It's just another way Syncrofy is making EDI accessible to everyone!
To learn more about inviting your partners to Syncrofy, please check out our Help site. For more information on the power of Syncrofy, please visit www.syncrofy.com.